2008
01.18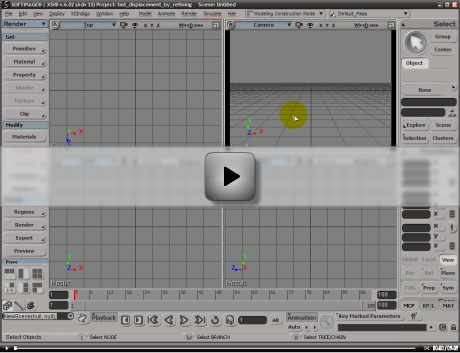 [SEE VIDEO]

FILES: DOWNLOAD TUTORIAL (36Mb SWF, play it with standalone Flash Player)
Get the OBJ & TIFF from here. [If the official link dies, get it here.]
FORUM THREADS: [xsibase] [cgtalk] [xsiforum.com] [indocg.com] [xsiforum.de]
NOTE:
Sometimes, enabling "Sample Displacement Before Rendering" under the Optimization tab in the Renderer Options may drastically speed up your render even more.
Bare in mind disabling it means mentalray doesn't get accurate bounding boxes for the displaced geo, which means BSP calculations can be affected.
This will not affect render quality though, only overall render times.
*UPDATE* [03/01/10] This tutorial was made in XSI 6 and you should know that the "sib_interp_linear" node is the "ChangeRange" node in present versions.